Every Working Mom Needs a Sunday: 4 Strategies to Get Yours Every Week
Updated: Apr 29, 2019
Every working mom needs a Sunday: 4 strategies to gets yours every week.
Definition
Sunday [sun-dae]
Verb: To Sunday Taking time to for yourself. So that you can go into the days ahead recharged, refreshed, and ready to kick ass as the super woman that you are!
Before having kids, you could Sunday every week. Sleep in, exercise, meal prep, brunch, get a mani pedi, binge TV, do laundry, do a craft, you could truly do anything. That's the glory of life before kids. Endless possibilities and limited restrictions.
Life after kids is different. For working moms who on average clock in the weekly working hours of 2.5 full time jobs there's no time to Sunday. Granted, you can feel grounded and centered having spent time with your family all weekend but how do you ensure you enter the week recharged? I recommend you dedicate time each week to take care of yourself and refresh for the week ahead. It's one of the few ways we maintain our sanity and can continue to be our best selves. We are reminded every time we fly on an airplane "to adjust your own mask, before helping others." After all, we cannot take care of them if we do not take care of ourselves.
[After all, we cannot take care of them if we do not take care of ourselves.]
Taking care of ourselves is important if we're going to take on the world each and every day. But many women struggle to prioritize themselves especially if money, resources, or nearby family is limited.
Here are 4 strategies to achieve your own Sunday including a how to guide + rose and thorn for each strategy.
Rose: positives
Thorn: negatives
Sunday on Monday, option 1
Work from Home on Monday
Don't get dressed for the day. Today leggings = pants. Move a little slower in the morning - your kid may need that anyway! Get them off to daycare, school, or handoff to nanny to spend the day out of the house. Then revel in the quiet. Eat a slow breakfast and sip your coffee. Spend your lunchtime at a workout class or in the gym. Squeeze in a few errands around meetings. Put a soup, stew, or meal in the crockpot so there is no dinner rush.
Thorn: Not all employers will give you this flexibility.
Rose: No extra time away from your family and no extra cost associated.
Sunday on Monday, option 2
Take Monday night to yourself!
If you typically hire a sitter one weekday night, make it a Monday. Power through the work day and spend your afternoon taking care of you and let someone else take care of your child. Read below how I do this. After work, head to a work out, schedule a girl's night, attend a networking event, go shopping, go to therapy, check out a new art exhibit, do it all! Come home after kids are off to sleep or just in time to find your little ones fed, their lunches cleaned, and in PJs waiting to be tucked in – that's the best part of the night anyway! After everyone is off to sleep, soak in the tub, put on a sheet mask and replenish your mind with a book or journaling.
Thorn: Time away from your kids and the added cost for a sitter.
Rose: No time away from the office is required and it's a reliable time each week that you can make plans.
[Partnered Mammas] Take turns sleeping in on weekends
Decide who gets Saturday and who gets Sunday for sleeping in
Set ground rules. The parent-on-duty must feed and clothe the kid(s), take them out of the house, and clean up after themselves and the kids from that morning (mostly talking about rules for Dads!) so that parent-off-duty can actually get some extra shut eye. Agree in advance what the hours of the shift is. For example: it could be from 7:00-9:00 am so you get to sleep in or 7:00-11:00 am so you get to sleep in, eat breakfast, and get in a workout!
Thorn: If you're going out one night during the weekend, one of you will definitely be on the short end of the stick to have the wake up the next day while the other sleeps in. You lose out on time together as a family.
Rose: No added cost and you get special one on one time with your kids.
Hire a Sunday morning or overnight sitter
Spend time together as a couple
Make big plans for Saturday evening and handoff instructions and keys to the sitter beforehand. Give yourself the opportunity to stay in bed with your partner, enjoy a breakfast date, do something you used to love doing together even if it's as simple as grocery shopping or reading the paper. Come back in time to enjoy yourselves as a family now that you're refreshed and connected.
Thorn: Added costs of a sitter and time away from your kids.
Rose: Loving yourself and loving your partner is important! Dedicate time to it! You get to be together instead of separately taking care of the kids.
How do I, The Maternity Planner, Sunday?!
I Sunday on Monday afternoons each week. My almost 3-year-old attends a full day preschool and I work full-time. Two days a week, I have a babysitter pick him up from school, play with him, feed him dinner, clean his lunch box, and get him ready for bed. In the meantime, I spend my afternoons on me.
I go to therapy – because mental health is important! Then I exercise, typically attending a class that kicks my butt like 305, Barre3, or a class at Vida because my physical health is also important! I usually grab an easy Sweetgreen salad or Beefsteak veggie bowl so that I don't have any dishes to do. And then I sit down and relax. From time to time, I'll sneak into my son's room and use his bath and just soak watching some old episodes of FRIENDS or read a book. Other times I'll watch an episode of Homeland and go to bed early, which means 10:30 instead of midnight in my house.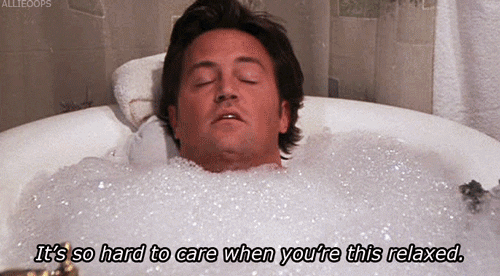 What are you doing to take care of yourself? Do you feel like you have no time for self-care? If you're looking for tailored advice and guidance on how to find time for yourself don't hesitate to reach out!